Pain and injuries in the young
Children have a wonderful capacity to heal from injury because they still have good quality tissue as well as a strong metabolism. This results in fewer injuries occurring as well as faster healing time from injuries that have occurred. However, they are still prone to falls and injuries and can also develop a number of conditions requiring specific understanding and treatment. These can occur in infants to adolescents and can include:

Postural problems in children

The increasing availability to computers, phones, tablets and televisions is changing the way children are growing up and this can be clearly seen in their increasing prevalence of poor posture, muscle weakness and back pain.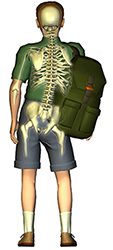 Musculoskeletal system problems
is the most common origin of poor posture. It happens because of continuous bad positions of daily living that create the muscle imbalances over time. All activities have an influence on children's posture including sitting, standing, walking and even sleeping. Other common factors may include poor vision, hearing and middle ear or balance problems. If not detected and treated early on, these postural issues can develop into more serious conditions such as scoliosis.
Your physiotherapist can help by assessing your child's posture. This is done by visual assessment using a posture grid and specific functional tests and may in some cases recommend additional tests such as X-rays.
If an abnormal posture is detected, a specific rehabilitation program will be worked out. The biggest part of the rehabilitation process remains exercise and education.
Scoliosis, kyphosis and lordosis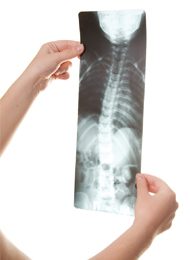 All postural problems that occur from poor positioning in daily activities such as sitting, walking and sleeping. They develop because certain muscles become stronger than others from overuse. This leads to an imbalance of the muscles working to control the spine and pulling out of position. The most common seen posture problems are:
Scoliosis
Sideways curvature of the spine when viewed from behind. This happens when the muscles on, for example, the left are stronger than the right causing the spine to be pulled away from the straight line. It usually is followed by an opposite cure higher or lower as a compensation.
Kyphosis
Also called a hunchback posture as the upper back becomes excessively round. The most common cause is shortening of the chest muscles and weakness of the upper back muscles.
Lordosis
Called the hollow back posture. This appears as an excessive hollow lower back and is caused by strong lower back and hip muscles together with weakness of the stomach muscles and hamstrings.
Sport Injuries
Children are very active and are involved in sport activities and general play. This can lead to common injuries such as ankle sprains, muscle tears and general cuts and bruises(hematomas). These injuries are treated similarly to soft tissue injuries and include:
Rest, Ice, Compression, Elevation – RICE treatment post injury
Physiotherapy to correct muscle or soft tissue injury
Bracing and or slings and crutches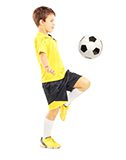 Greenstick fractures
The bones of children are not as hard or brittle as those of adults. When a child falls his or her bones in most cases break in a specific manner: the break is closed (closed fracture), stays in position, and is usually treated conservatively often with casting or splinting.

Growing pains

This often occurs in children undergoing a growth spurt or when they have been extremely active. This can lead to pain from muscle tightening due to activity levels or from shortened muscles due to the fast growing bone. Home treatment consists of rest from activity and applying heat. Physiotherapy can help by giving the correct stretches and massage treatments.
Congenital hip dislocation

This can be present from birth and results in the ball of the hip joint not being in the correct position in the socket. This can lead to leg length discrepancy and eventually result in postural changes. The condition is 4 times more common in girls than boys and is often called hip dysplasia. If diagnosed early, it can be treated by bracing or replacing the hip under anesthesia. More severe cases may need surgery followed by physiotherapy to help restore normal muscle and joint functioning.
Sever's Disease
Is a condition that occurs in children experiencing a growth were the tendon attaching at the back of the heel is stretched as the bone grows too quick leading to a tendinosis (tendon inflammation).
It can occur in children that are over active or are starting a new activity which places a lot of stress on the tendon. In some cases being overweight or having pronated feet (flat feet) can worsen the situation. Treatment can include rest from activity, ice, orthotics, and anti inflammatories. Physiotherapy will help stretch the muscles, correct muscle imbalances and decrease inflammation.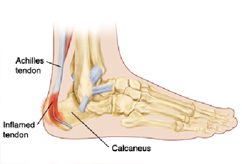 Scheuermann's Disease

Spinal condition in children and adolescents that results in a spinal kyphosis ( hunch back). It is a bone condition that results in an abnormal curvature of the thoracic spine which cannot be corrected voluntary. This can lead to pain and stiffness and can worsen during growth phases if not detected early.
Treatment usually involves physiotherapy to decrease stiffness and correct muscle imbalances and bracing. Exercise is an important part of the rehabilitation process.
Physiotherapy Treatment
Physiotherapy should always start with a good examination of the child and a thorough history taking. Once the diagnosis is made, the treatment program can be planned and is usually designed to correct muscle imbalances and decrease joint stiffness.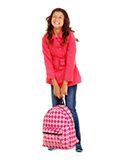 However, when dealing with children, it is vitally important to provide education to the child and the parents about the condition. This is because the child will continue growing and small problems can worsen if not corrected early. The importance of correct postures, schoolbags, beds and chairs should be understood as well as the need for correct exercise and appropriate lifestyle modifications.