The spine is the central supporting structure of the body and provides a stable base from which our legs can move us and our arms can manipulate and create. It is often referred to as the vertebral column as the bony elements of the spine are called vertebrae. There are 33 vertebrae in the body, 7 neck (cervical), 12 middle back (thoracic), 5 lower back (lumbar), 5 sacral (fused or grown together) and 4 coccygeal (fused tailbone).
This spinal column provides attachment for numerous ligaments tendons and muscles which make it a very strong and stable structure. The bones come together via joints which are called facet joints and this allows the spine to bend and twist. The cervical region is more capable for rotation whilst the lumbar region is more designed for bending.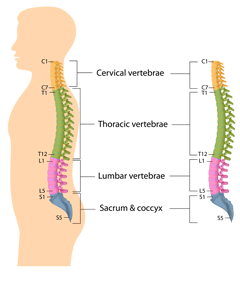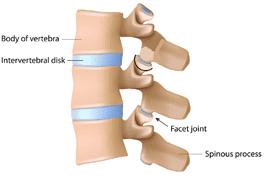 Between the bony vertebrae is a soft, gel-like cushion called the disc and its job is to provide shock absorption in the spine. The disc is made up of a soft middle layer and a stronger, ligamentous outer layer. The disc starts loosing water as we get older and the height of the disc can start to reduce which can produce certain lower back pain.
There are various causes for neck and back pain such as ligament strains, muscle spasms, stuck joints and disc problems. Symptoms to these problems often include pain and stiffness and in more serious cases: referred pain down the arm (neck conditions), down the leg (sciatica- for back conditions), pins and needles or muscle weakness. Any irritation in the neck can also result in headaches, blurry vision or a ringing sensation in the ear.
Common Causes of Neck and Back pain
Neck and back strain
Occurs when the back/neck is placed in a wrong position during certain activity such as driving long distances, or sleeping in the wrong posture. This causes tension on the joints and ligaments and can produce protective muscle spasms, pain and stiffness. This is usually a sudden onset condition which responds quickly to therapy and conservative management.
Postural problems
This usually develops over time as muscle imbalances occur due to a variety of factors. These muscle imbalances keep the neck/back in an abnormal position and can cause pain and headaches. Click here for "Posture" education and advice.

Whiplash
Involves an uncontrolled fast movement of the head and usually occurs in car accidents. The uncontrolled movement leads to the soft tissue (muscles, ligaments, discs and nerves) to overstretch and can result in tears. This produces bleeding and inflammation in the tissues. The joints can also be compressed resulting in joint inflammation and in severe cases, fractures. It is essential that X- Rays be done after any suspected whiplash.

Slipped disc
The discs between the bones consist of a jelly like substance and act as a shock absorber in the spine. If the disc gets injured due to abnormal positions or forces, the jelly can leak out and put pressure on the nerve, which is then called a pinched nerve. This can cause pain and/or numbness down the arm/leg or into the hand with weakness or certain movements.

In severe cases it can cause loss of bladder and bowel control, difficulty with swallowing (neck), difficulty
walking or decreased sensation in the pelvic area. If you experience any of these symptoms, contact your
doctor IMMEDIATELY.

Post-surgery and other spinal conditions
Any disc replacement or fusion surgery will need to be followed by some kind of physiotherapy to decrease pain and improve movement. A specific protocol will be followed depending on the nature of the surgery or injury. Other conditions include:
spondylolithesis (slipped vertebra)
spinal stenosis (spinal canal narrowing)
facet joint degeneration/spondylosis
Diagnosis and Management

The first step would include taking a full history of symptoms followed by a comprehensive clinical examination. This is used to determine the likely origin of the symptoms and helps to prepare the appropriate treatment approaches.
If the cause of pain is associated with any kind of trauma or the patient has more severe symptoms such as pins and needles, weakness or numbness, then an X-ray or MRI may be indicated to look at the bony structure of the spine (X-ray or MRI), or the soft tissues of the spine (MRI). Other tests may be indicated to help determine the origin of the symptoms, such as nerve conduction tests.Referral to a specialist may be required to exclude other possible causes of the problems including vascular (circulation and heart), systemic (rheumatoid arthritis) or endocrine (hormonal) causes for the pain.
If you have any of the following symptoms, please consult your doctor immediately.

Loss of bladder or bowel control
Legs collapsing
Loss of feeling in the pelvic region
Difficulty swallowing
How can Physiotherapy help?

The aim of physiotherapy is to decrease pain and improve movement in the spine. Your treatment will be designed based on your condition and its underlying causes and will include a selection or combination of the techniques listed below:

Soft Tissue Massage and Joint Manipulation – to decrease muscle spasm and regain normal joint movement
Dry needling (acupuncture) – to decrease muscle spasm
Exercise – to help improve movement (stretching), and strengthen core and target muscles
Electrical therapy – to decrease pain and inflammation
Posture corrections and home/office advice – to sustain results, prevent recurrence and correct underlying factors
Duration of treatment
Acute conditions: duration of treatment can range from just a couple of days to up to 12 weeks, with frequency of sessions been 2-3 per week.
Chronic conditions: may require continuous follow up treatment to prevent episodes of flare up or to the need for surgery. This is often the case for patients with arthritis or severe disc issues. The frequency of treatment will depend on the condition and symptoms, but can vary between once a month to once every three months.
Treatments for pain should be comfortable as we don't want to flare up the condition. Treatment can be more uncomfortable if stiffness is the underlying cause of the problem as therapy tries to stretch tissues and move joints to gain movement. This should, however, always be in tolerable levels of discomfort for the patient.