SCHOOL EDUCATIONAL PROGRAM
As part of our commitment to be involved in the community and to promote healthy living and lifestyles, we have started a school awareness campaign. The aim of this project is to build partnerships with the schools, parents and scholars to help facilitate changes towards healthy living. We do this by providing free interactive lectures at schools covering a wide variety of topics, including:
Correct schoolbag selection
Good posture education
Importance of exercise and diet in the growing child
Injury prevention and workplace setup for teachers and staff
We are also open to discussion with our partners on any topics that may arise that are specific to their school or institution.
Corpoarte Programs
Why Corporate Physiotherapy?
The World Health Organization(WHO) estimates that 70-90% of all people will experience back or neck pain at some point in their life.
Recent studies in America have estimated that the cost to the economy is approximately 85 Billion US Dollars in treatments and loss of work hours.
Many jobs today require us to sit for long hours behind a desk or computer, travel extensively, or perform reptetive movements and activities such as typing on a keyboard. Overtime, this can lead to many problems including:
Neck and back pain
Headaches
Shoulder problems such as rotator cuff tendinitis
Tennis or golfers elbow
Carpal tunnel syndrome
Swollen legs and circulation problems
Decreased mobility and long term postural changes.
Productivity in the workplace is reduced as employees spend time consulting with healthcare practitioners, go on extended leaves, or have decreased concentration levels due to medications being used. Motivation levels also decrease as long term pain leads to mood disorders and depression.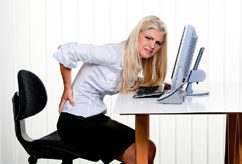 At Vitalite, our goal is to prevent injury and illness from occurring, and decrease their effect when they do occur. We take a comprehensive approach to our prevention and treatment programs, without compromising on the specific requirements and characteristics of each individual patient. Our program will involve all aspects of work and home environments.
Where needed, treatment can be offered at the workplace to minimize the time spent away from the office and activity. This also helps to identify contributing causes to pains and problems, which can then be corrected or changed.
Our range of services include:
Education programs and seminars regarding exercise, stress, posture and the prevention of symptoms.
Office assessment and set up advice
On site physiotherapy assessment and treatment
Training and guidelines to corporate safety or occupational health specialists (train the trainer)
Advice and assistance with procurement and set up of individual work stations or entire office requirements.